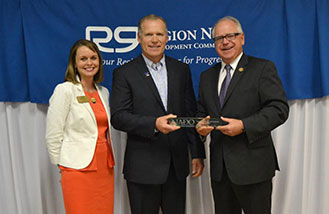 Washington, DC – Congressman Tim Walz (D-MN) was honored with a 2016 Congressional Partnership Award from the National Association of Development Organizations (NADO) for outstanding leadership in promoting federal community, economic, and infrastructure development programs.
Representative Walz was presented the award by Region Nine Development Commission during their Commission meeting on Wednesday, October 10th.
NADO President Jeff Kiely (Gallup, NM) stated, "Congressman Walz is a dedicated champion for economic growth and development in our country's local communities. Recognizing that basic infrastructure, job creation, workforce development, and locally-driven planning are the essential building blocks for long-term-success, Congressman Walz has been steadfast in his support for advancing regional economic development."
"Region Nine Development Commission has partnered with the Federal Economic Development Administration to leverage approximately $22 million in funding since 2013," explained Nicole Griensewic Mickelson, Region Nine Executive Director. "This funding has assisted the nine county region ranging from technical assistance to disaster recovery. These accomplishments would not be possible without the support of our representatives."
The biennial awards program recognizes members of Congress that have displayed strong support of regional development polices. Recipients were selected based on their support of NADO's national legislative priorities, including funding for federal community and economic development programs, as well as support for the work of regional development organizations at the local level.
"I am humbled to be recognized by NADO for my work," expressed Congressman Walz. "This award really belongs to regional partners, especially Region Nine Development Commission, for their work with me on needs of our communities so I can take southern Minnesota ideas and solutions to Congress."
Pictured L to R: Region Nine Executive Director Nicole Grienewic Mickelson, Region Nine Chair Brad Ahrenstorff, Congressman Tim Walz