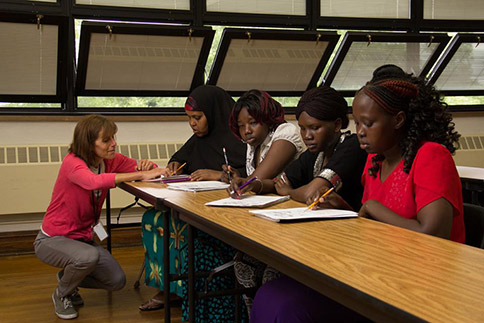 There are many different pieces to solving a workforce shortage in a region. One piece, as identified in Region Nine's Comprehensive Economic Development Strategy (
One example of educational attainment efforts in the region is Adult Basic Education. Adult Basic Education (ABE) is a statewide educational program designed for adults to build basic literacy skills to become successfully employed. In Minnesota, ABE programs are housed under local school districts and are implemented through 48 regional ABE consortia. Region Nine is served by four ABE consortia. One example is the Mankato Area Adult Basic Education Consortium which covers six public school districts including: Mankato area, New Ulm, Lake Crystal, Sleepy Eye, St. Clair, and Maple River.
The goal for programs like ABE is to help adults achieve their full academic and employment potential by strengthening the fundamentals. People enroll for a variety of reasons, including: incomplete traditional High School education, functioning below the 12th grade level in basic academic areas, seeking to build skills in high-demand careers, and to learn English. Workforce literacy is integrated at every level with students advancing to higher level classes as they progress in their educational trajectory. Classes can be offered at multiple sites including schools, libraries, jails, community centers, and college campuses. The Mankato Area ABE consortium serves 800 students annually, including many immigrants.
"It is important to understand what a person's frame of reference is in order to help them become successful" says Karen Wolters, Adult Basic Education Coordinator for Mankato Area Public Schools. Many who participate in the English Language Learner program may not have had any formal employment experience and may have lived in a refugee camp with limited opportunities. Wolters highlights the complexities of the learning curve, "It can take time to fully understand the American culture of work in our country. There are many layers that need time to work through, but people are motivated."
Wolters sees an average attendance of 20 hours per week and states that as a general rule it can take up to seven-ten years to become fluent in English. For many immigrants, English may be their third or fourth language they have learned throughout their lifetime. "Language acquisition is an ongoing process" says Wolters. For job seekers who are also language learners, it may be difficult for a business to easily identify a good candidate based solely on their ability to navigate the traditional hiring protocol of a written application or behavioral interview.
It is evident educational attainment programs play an important role in building essential workforce literacy skills. They provide the building blocks of literacy that are necessary for workers to be successful in future workforce training and employment. ABE is always looking for opportunities to partner with industries to meet workforce needs. Businesses who are interested in learning more about workforce literacy or want to connect with students can contact their local school district and ask for the ABE program manager.
This article is part two of a three part series on the workforce shortage.