Social Media Breakfast – Mankato
The list of mediums to market through often seems endless. Whether you're a marketing department of one or a team of twenty, the process is the same. You need an effective strategy, a plan to implement that strategy, the resources necessary to make it happen, and a way to track your effectiveness. Employing a third party to assist you with your marketing becomes a necessity when we look at all of the work that goes into positioning a brand for success. This relationship can lead to monumental mutual success or colossal failure. Understanding how best to select an agency or freelancer is crucial. Even more crucial is knowing how to best use this third party effectively.
Learn from the experts at OMG – Otto Media Group how to approach the selection of that freelancer / agency and how best to work with them. Join Wes Otto, CEO & Co-Founder, Mike Sargent, Creative Director & Co-Founder, Ashley Flitter, Project Manager and SEO Expert, and Matthias Leyrer, Website Developer, for an in depth panel discussion and Q&A session. Hear real world stories from individuals that have been on both sides of the desk. We have just one request – please come with questions!
This event is free and open to the public. Reserve your seat at http://bit.ly/March2020SMB-M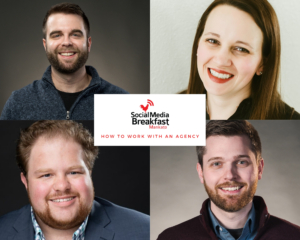 https://www.rndc.org/wp-content/uploads/2017/09/region9_white_logo.png
0
0
Region Nine
https://www.rndc.org/wp-content/uploads/2017/09/region9_white_logo.png
Region Nine
2020-03-05 14:41:32
2020-03-05 14:41:32
Social Media Breakfast – Mankato