A Candid Conversation with Mayor Najwa Massad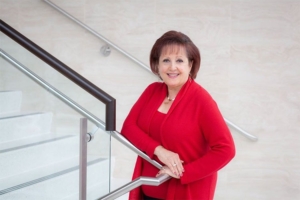 "Coming to the United States as an immigrant and establishing a small business shows how we are the heartbeat of this country. I believe in uplifting small businesses because of that personal connection that people get in the hospitality industry—we are the heart of our community." —Mayor Najwa Massad
One of the most inspiring political figures in Mankato is Mayor Najwa Massad. I had the chance to speak in-depth with Najwa who uncovered her timeless life story beyond serving as Mayor. Back in 1960, Najwa immigrated from Lebanon when just 5 years old, settling in Mankato with her mother, father, and brother. She attended St. John's Catholic School, and grew up in a modest household.
Because the price to make phone calls to Lebanon was expensive at the time, her mother was unable to afford keeping in contact with her sister, and had not seen her in 11 years. After over a decade, she joined her mother and brother on a trip to Lebanon, where she met her husband, John. She continued to stay in Lebanon for her marriage, and had a daughter named Murray. "I'm very proud that [my daughters] go back to that heritage of where they came from such as customs that I carried from my parents, and they are carrying the same customs moving on. Family is # 1, and that's the most important part because without your family, you don't have a base," Massad says.
A civil war broke out in Lebanon that escalated during their visit to the U.S., so they decided to settle in the U.S. again. It was challenging at first because they had very little money, and her husband could not speak English, so it was hard for him to find a job. Najwa also faced the challenge to break away from pre-imposed gender roles that women could not work, as she knew better than that. She soon got a job at a grocery store with her father's support. Because of John's exceptional talent as a master chef, they had to return to Lebanon to sustain their family business. But, this was when the civil war was at its peak. "We had to escape in the middle of the night to get from our hometown to Beirut—we got onto this boat because we had our American green cards. There was an Israeli ship in the middle of the Mediterranean Sea that we realized was a cargo ship for animals," Massad says.
She describes the agony of being cramped together with 250 passengers getting sick in the most unsanitary conditions. On a trip that was supposed to take 2 hours, it took over 24 hours to get to Cyprus. When they got off the boat, the most beautiful sight they saw was the American flag flying on the dock. After spending the night in Cyprus, they got on a plane back to the U.S. and didn't look back. In 1984, they opened their first restaurant featuring French-Mediterranean cuisine, naming it after their first daughter, Murray. After 24 years, they returned to Lebanon to visit her mother-in-law. "It was surreal because we left Lebanon when the bombs were falling. Beirut was a disaster with rubble everywhere…people were just running in the streets, and it was absolutely horrible. And then we go back, those people are resilient…Beirut was beautiful again, it was gorgeous," Massad says.
When talking about her leadership style, she describes herself as nurturing and a good listener. She believes in listening to people with empathy and compassion, regardless of how big or small their issues are. Instead of arguing with them, she wants to be that person who actually understands what they're going through. As the daughter of immigrants, she is one of those dynamic leaders who understands coming to a new country and feeling like a fish out of the water. People just want to be heard, and they want to know that someone is willing to actually listen to what they say. "When we come into public office, it's not about us anymore. It's about the people that voted for us, and the people that we serve. We all have disagreements, but in the end, we have to get back together to see what we can do best," Massad says.
A community thrives when people are welcoming and engaged, while being eager to learn about other cultures. Najwa has a burning passion to learn from diverse perspectives as she thinks about how to best serve everyone. She describes how working in a male-dominated space motivates her to be forthcoming and eager to establish her seat at the table of decision-making. "When you shake somebody's hand, bring them down to their knees," Massad says. What makes the Massad restaurant business so successful is John's unique approach to making the delicious shawarma. "Mankato made the shawarma famous, shawarma made Mankato famous," Massad says.
Due to the stark contrast in cultural cuisine, John had to develop a clever way to tailor menu items to the American palate while also retaining its authentic flavor. It took a while before Murray's became successful because they had to learn the ropes of managing a restaurant, since they had no prior experience before. As Murray's grew popular, they opened locations at the Civic Center, and River Hills Mall, called Massad's. "To say that we were insane, it was. Mentally and physically, it was challenging," Massad says.
Because life was busy raising two girls and managing three restaurants, they eventually let go of Murray's to build off the Massad franchise. Till this day, their hard work and determination have blossomed into the true vision of the American Dream. Not only are they serving delicious food, but are in the process of bringing innovative ideas to life. For the past 25 years, they poured their life savings and energy into building an automated shawarma machine with the possibility of selling it internationally. "Everything seems to go forward and then ten steps back, but now, we are moving ahead with it. Our dream right now is to build this machine and sell it throughout the Middle East and Canada," said Massad.
Right now, they have expanded their Massad's franchise to eight Scheels Sporting Goods locations, shipping out all the ingredients and teaching workers how to properly make the sandwich. Her younger daughter, Carla, has taken on the leadership role of serving as the CEO for two of their restaurants. Meanwhile, Najwa works full-time (managing and cooking) at their Civic Center location, feeding between 1,000-2,500 people. "Whenever you're an entrepreneur, always hire someone that's smarter than you. That's when you can trust yourself to know [that your employees] are good at what they do. I have wonderful staff, I have excellent staff—they take care of me, I take care of them." Massad says.
Najwa is very clear that her business makes up who she is, and she carries these values as Mayor of Mankato. She does her best to coordinate her work schedule to meet with individuals because connection will always be important to her—especially when representing this great city. She also advocates and gets involved with causes that are important to her like YWCA and Greater United Way. "Mankato is a community. It's a family and this community, and if someone needs something, we're all there for each other. All in all, this is one damn good community with a heart of gold, and that's why I wanted to be the mayor," Massad says.
By: Monali Bhakta, Lead for Minnesota Fellow
Photo from
Mankato Life
:
Mankato Staple – Najwa Massad & Najwa's Catering
https://www.rndc.org/wp-content/uploads/2017/09/region9_white_logo.png
0
0
Region Nine
https://www.rndc.org/wp-content/uploads/2017/09/region9_white_logo.png
Region Nine
2020-12-30 12:53:10
2020-12-30 12:53:11
A Candid Conversation with Mayor Najwa Massad