Rural Equity and Opportunity Project
In 2017, Region Nine, in partnership with the YWCA-Mankato and the Greater Mankato Diversity Council, received funding from the Blandin Foundation and Blue Cross Blue Shield of Minnesota Foundation to lead equity and inclusion educational initiatives throughout the nine county region. Local partnerships also included area school districts and community education departments in each community.
Region Nine and the Greater Mankato Diversity Council collaborated to facilitate regional awareness through community outreach sessions with cross-sector leaders in seven small communities. To provide a platform to engage the broader community, Region Nine partnered with the YWCA of Mankato to bring their trademarked program model, It's Time to Talk: Forums on Race, to seven city. The forums, attended by 280 individuals, provided a platform for introductory, awareness-building conversations through an interactive model of personal and community reflection, and sharing of personal experiences around themes of race.
Rural Equity Learning Community
In 2018, Region Nine, with generous support provided by the Blue Cross Blue Shield Foundation of MN, collaborated in a design team with Greater Mankato Diversity Council and the U of MN Extension Center for Community Vitality to plan and facilitate a regional training for up to 70 regional stakeholders. This Rural Equity Learning Community further engages the 2017 participating communities in an interactive leadership and civic participation training to build capacity for communities to design an inclusive infrastructure for a welcoming community and support the vibrancy and resiliency of rural communities in our region.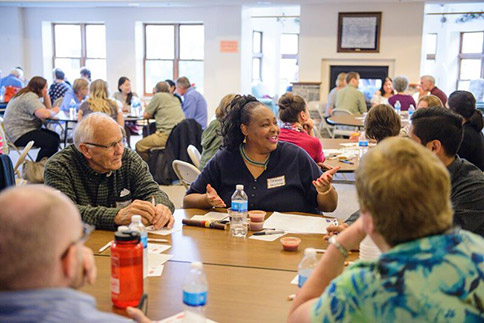 Participating communities:
Fairmont
Lake Crystal
Montgomery
New Ulm
St. James
St. Peter
Waseca